Welcome to Sahajanand International School
Mr. RAJESH PATEL
"Develop a passion for learning. If you do, you will never cease to learn"
Keeping this thought deep rooted in our mind, Sahajanand International School strives to nurture every child so that each child can develop their inherent potential and spread their wings.
SIS is my one of the delightful dream with my open eyes, which is now at its best in terms of education and best services to the mankind.
We at SIS believes in empowering our youth with bridges with resources that will allow them to take life's most difficult challenges with courage and power. A school plays a central role in nurturing and developing the unique talent of every child, and enabling him or her to blossom by discovering the joy of learning. We believe that this can be achieved by providing children a safe and conducive environment to do their best in academics, sports, arts and cultural activities.
Every day, all our efforts are focused on making SIS a happy school, where teaching is a pleasure and learning is a joy. Our caring and committed teachers are our pillars of strength. They teach our children not just with their minds but with their hearts, making learning enjoyable and rewarding, and instilling in children sound values and attributes. Our educational programmes are complemented by state-of-the-art facilities and resources, and numerous opportunities for children to engage and excel in sports and co-curricular activities.
We are committed to giving our children only the best and holistic education, whether in academics or extracurricular. Each student studying in SIS is a young star of our SIS family, and we inculcate the philosophies and values that allow our stars to go and change the world.
Blend of the modern technology and the Indian culture takes our values to next generation, which makes our young mind to stand confidently in front of world with morals, values and full of talent. We respect our family, our nation and nurture same values through school life.
I warmly invite you to explore SIS as we re-dedicate ourselves every day, to impart the very best education to the young minds.
VISHNUSHWARUPDASJI SWAMIJI
''SIS is a school rich in tradition of excellence.''
Life today is on the fast track with gigantic changes in the field of science, technology, management, information and communication. We see around us an array of global changes which were unheard before. This situation demands an education system which will help the pupil face the changes.
We, at SIS want our pupils to have a vibrant dynamism, an unparalleled knowledge base, an acute consciousness about the world, a focussed ambition and a sustained commitment. We strive to give an exposure to the hard realities of today's world thus making them more mature and mentally responsive. We are committed to challenging and guiding young minds. Education is always about personal growth. So that best student is not one who gets maximum marks, but the one who learns every day.
Education does not mean rote learning and appearing for an examination. The aim of education however, should be to make one wise. Facts may be forgotten or may change, but wisdom gained from experience is a companion for life. This wisdom comes through skills like judgment, discrimination and analysis. It comes from learning the significance of problem solving, the importance of decision making as well as the need for goal setting. These tools will be an aid to students in every situation they face all through their lives.
May the achievements and the philosophy of our school bring you pride of the past, a vision for the future, but most importantly, a motivation to achieve in the present.
The students focus should always be on virtues like Care, Compassion, Truth, Honesty and Sincerity.
Parents and all stake holders shall be partners in providing Quality Education.
We wish you all the happiest experience in the school of our efforts.
ANITA TEKALE
PRINCIPAL
SAHAJANAND INTERNATIONAL SCHOOL
  "An investment in knowledge pays the best interest"  – Benjamin Franklin
The goal of Sahajanand International School is to help society flourish. We believe that, education is the process by which society deliberately transmits its accumulated knowledge, skills, and values from one generation to another.
Sahajanand International School is a school of difference! We value individualisation, creativity and innovation. We aim for happy and empowered students. We have a vision to incorporate value based education through collaborative approach to learning. One of the focussed parameter of SIS is human relations. Education decides the attitude of every being and attitude develops human relations. SIS exactly shapes an attitude of each child which comes to us.
Our success lies in team of management, teachers and parents to contribute in development of students.
SIS invites you to visit the school campus and make it the dream school of your ward.
Let's script together the global perspective and an international system of education through SIS.
What we provide ?
Sahajanand International school follows the most progressive Indian academic structure as outlined by CBSE (Central Board of Secondary Education).
Our Objectives
To inculcate in children, the values of compassion, empathy and respect towards others and the environment.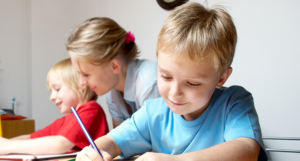 Our Vision
Our vision at Sahajanand International School is to empower students to acquire, demonstrate, articulate and value knowledge and skills that will support them, as life-long learners, to participate in and contribute to the global world and practise the core values of the school: respect, tolerance & inclusion, and excellence
Our Mission
Our Mission is to provide a world class learning experience along with extracurricular activities for overall development of children and their unique abilities. We will constantly endure towards making them good global citizens whose presence will enrich the society