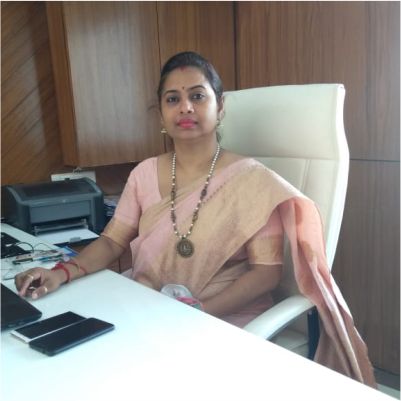 MS. JYOTI NIM
PRINCIPAL
SAHAJANAND INTERNATIONAL SCHOOL
I feel proud and privileged to be the part of this magnificent Institution as a  Principal.
I am pleased to acknowledge that Sahajanand International School, Sojitra, Anand lays its stress not just on academic excellence but on "character formation with academic excellence". It motivates students to "always aim high".
Each day is filled with new experiences, learning for all, and the ability to make someone's day better; many days it is the students who make my day a little brighter.
We believe in imparting value-based education to all its students. Empowerment of each child at all levels by meeting the intellectual, spiritual and emotional needs of the child what we strive for.
Albert Einstein said, "Education is not about learning of facts but training young minds to think."
Our staff consistently follows current trends and in collaboration with administration, creates a plan of action to incorporate those trends that are most appropriate into the classrooms.
At  Sahajanand International School, the uniqueness of each child is recognized, nurtured and treasured.
Our focus is to develop our students as global citizens, with tolerance, respect and appreciation of diverse cultures and religions for a life-time learning experience. They should be self-motivated, independent, confident decision makers to take up a leadership role in future.
Keeping abreast with latest technology, our rooms are equipped with visual teaching aids (smart class), empowering teachers to teach effectively and to conduct continuous evaluation of students.
During the pandemic, our team  has been  conducting online classes effortlessly.
We at SIS provide holistic education where children evolve as individuals who are self-motivated and creative, who can think, question and reason out logically; who are independent, confident and leaders capable of taking decisions.
I consider myself very fortunate to be a team Leader of  Sahajanand International School.
Please take a moment and visit our school's website.  As always please feel free to contact me with any questions or concern.
Best wishes for an enriching and fruitful academic year!
Ms. Jyoti Nim
Principal